Pianist for weddings, receptions and other special occasions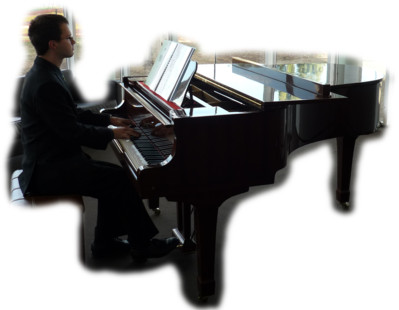 Derek Moule (AMusA) has extensive experience as a pianist playing in restaurants and clubs and for weddings, parties, functions and other special occasions. All styles of music - from classical concert music to jazz and pop, even Boogie Woogie! Derek is even happy to take requests!
Derek is also an experienced accompanist for concerts, competitions, exams etc.
Servicing Port Macquarie and surrounding areas.
Reasonable rates and committed to performance of the highest standard.
Derek is happy to provide a no-obligation quote for his performance, and is happy to discuss any special requirements / music you would like played at your wedding or function.
---
Listen to Derek Moule play!
Please note that for reasons of copyright, recordings of more modern music, popular tunes etc cannot be made available for you to download. If you are interested in having Derek perform, please contact Derek who will be more than happy to demonstrate by playing for you prior to the performance.
Free to download MP3s
To play the files, just click on the hyperlink. You will need to have a suitable media player configured to play MP3 files. If you experience problems, right click on the file you wish to download and choose 'save link as', or 'save target as' (or similar for your web browser) and save the file to your hard drive and try playing from there.

All MP3s on this site are licensed under a Creative Commons Attribution-ShareAlike 3.0 Unported License
Please note that it is the PERFORMANCE contained in these mp3s that is released under the Creative Commons Licence. The copyright of the musical compositions that have been recorded (where it exists) remains, in particular for compositions by Derek Moule.
---
Videos
As well as beautiful, classical repertoire, Derek is also capable of having fun and playing for more light hearted occasions, as this slightly silly video shows!
Other websites may link to this page but please DO NOT link directly to files on this website.