Derek Moule has extensive experience teaching private brass students and conducting and teaching in band programs. Prior to moving to Port Macquarie, he was the musical director of the Bundaberg Municipal Band. He also writes music and educational material, including music for brass instruments and piano and a series of beginner books for various instruments. Lesson sheets are provided free of charge to all beginner students.
Derek's main instrument is trombone, and he has previously been the Band Association of NSW's open bass trombone champion. His first brass instrument was the tuba and he also regularly performs on euphonium. He has teaching experience on the full range of brass band instruments, specialising in lower brass.
Derek believes enjoyment is critical for learning and continuously explores new ways to make learning fun. To help younger students learn and gain maximum enjoyment from lessons, lessons are broken up into smaller chunks with musical games designed to consolidate the skills they are learning, and fun duets with the teacher. Derek likes to utilise technology during lessons and has written music computer games that students can play at home online to reinforce skills learnt during lessons.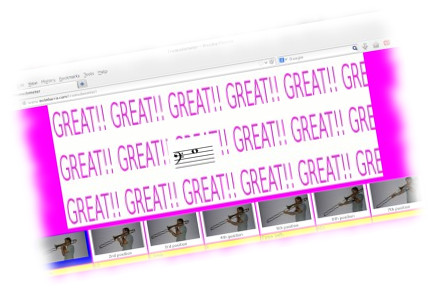 Lesson fees - half hour lessons
$250 per school term. Weekly lessons, 8 per term.
Longer lessons, one-off lessons, group lessons etc by negotiation.
A 10% discount applies for seniors / carers card holders.
Download student details and lessons agreement form
For further enquiries please phone Derek Moule on 0404 431 022 or contact Derek.
Copyright Derek Moule 2010 - 2020. All Rights Reserved.