15 First Piano Lessons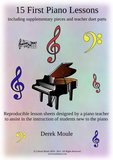 | | |
| --- | --- |
| Author: | Derek Moule |
| Instrumentation: | Piano |
| Genre(s): | Tutors, Lessons |
| ISMN: | 979-0-720127-00-2 |
---
A 'must have' for any teacher providing tuition to beginning piano students. Piano lesson sheets that you are allowed to copy for your students!
These lesson sheets have a 'concept at a time approach'. This approach allows students to concentrate on a new idea each lesson and understand the theory behind the concept, rather than teaching single new notes, rhythms or dynamics out of context.
The lessons included are:
Piano lesson 1 (focuses on finger numbers and identifying notes on the keyboard)
Piano lesson 2 - The Treble Clef
Piano lesson 3 - Rhythm
Piano lesson 4 - Time Signature
Piano lesson 5 - More Treble Clef Notes
Piano lesson 7 - Accidentals
Piano lesson 8 - Rests
Piano lesson 9 - Dotted notes / Anacrusis
Piano lesson 10 - The Bass Clef
Piano lesson 11 - Playing with Both Hands!
Piano lesson 12 - Key Signatures
Piano lesson 13 - Slurs and Ties
Piano lesson 14 - Dynamics
Piano lesson 15 - Lots more notes!
Contains:
15 single piano lesson sheets (with illustrations)
In addition to the pieces provided with the lessons, supplementary pieces are provided for each lesson
Teacher duet parts for many of the pieces, so the teacher can play along with the student to further enhance enjoyment and the overall learning experience.
Unlike most piano tutor books, these lesson sheets come with a licence which allows the teacher to make copies for students they are teaching. This avoids the dilemma caused by a student who forgets to bring their music to lessons and allows teachers to judge the rate of progress of a student before extra money is spent on music that is either too easy for a fast learner, or too difficult.
---
MASSIVE PRICE REDUCTION!!!
Please note that this title is not licensed for use in Mexico, Colombia, Guatemala or Samoa. Please do not purchase this item if you reside or plan to use this item in these countries
Purchase Options
Soft copy eBook (pdf)
If you choose this option you will be emailed a PDF file containing the music you have purchased. Please note that sending of the files is not automated but done by a human, so you will not receive the music instantaneously, though every effort is made to send the music as quickly as possible. Most computers will easily allow you to view and print this music, but if you experience any problems please get in touch. Choosing this method is cheaper because you don't have to pay for postage. It is becoming increasingly common for people to buy books and music in this format.
Hard copy
This is the more traditional method, where you actually receive the music in the post. Prices quoted include postage - just choose the correct option depending on whether you live within Australia or outside Australia.
Copyright Derek Moule 2010 - 2021.