My Grandfather's Clock (Henry C. Work arr. Derek Moule)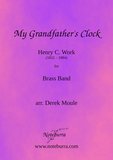 Composer:
Henry Work
Arranger:
Derek Moule
Instrumentation:
Brass band
Parts:

Score, Eb Cornet, Solo Cornet, Repiano Cornet / Flugel Horn, 2nd Cornets, 3rd Cornets, Solo Horn (Eb), 1st Horn (Eb), 2nd Horn (Eb), 1st Baritone (Bb), 2nd Baritone (Bb), Trombone 1 Treble Clef (Bb) (bass clef part also included), Trombone 2 Treble Clef (Bb) (bass clef part also included), Bass Trombone, Euphonium, Eb Bass (bass clef tuba part also included), Bb Bass (bass clef tuba part also included), Percussion
Bass clef parts also available for 1st Baritone, 2nd Baritone and Euphonium on request

Series:
Brass Band Series
Genre(s):
Novelty
ISMN:
979-0-720127-08-8
---
Henry Clay Work (1832 – 1844) was an American composer, best known for 'Marching Through Georgia' and 'My Grandfather's Clock'.
The intention of this arrangement is to provide many players in the band the opportunity to play solo or soli parts, so that more players have interesting parts than just the solo cornets, while having sufficient cues on other parts so that bands who do not have all parts covered will hopefully still be able to enjoy a successful performance of the arrangement.
Feedback for this arrangement:
PCB2 played it at Parramatta City Band's Australian Composers and Arrangers concert last year. It was great. I really like the arrangement and so did the band. Thanks again!!! :)
---
Purchase Options
Soft copy eBook (pdf)
If you choose this option you will be emailed a PDF file containing the music you have purchased. Please note that sending of the files is not automated but done by a human, so you will not receive the music instantaneously, though every effort is made to send the music as quickly as possible. Most computers will easily allow you to view and print this music, but if you experience any problems please get in touch. Choosing this method is cheaper because you don't have to pay for postage. It is becoming increasingly common for people to buy books and music in this format.
Hard copy
This is the more traditional method, where you actually receive the music in the post. Prices quoted include postage - just choose the correct option depending on whether you live within Australia or outside Australia.
Copyright Derek Moule 2010 - 2022.